Tyre Sidewall Explained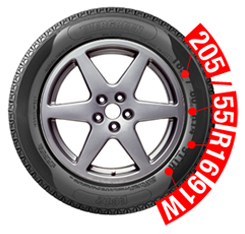 You will find the size of a tyre on its sidewall. With a quick explanation as to what the different numbers mean, you will see that it is very quick and very easy to find out a tyre's size.
Looking at the following image, you will see the mixture of letters and numbers: "205 55 R16 91 W"

We have broken down each section in the following table, explaining what each number/letter means:
| Sidewell Marking | Explanation |
| --- | --- |
| 205 | Width of the tyre in millimetres |
| 55 | Height of the tyre sidewall as a percentage of the width. In this case 55% of 205mm. Also know as the aspect ratio. |
| R | Radial Construction |
| 16 | The diameter of the tyre's inner rim in inches |
| 91 | Load Rating of the Tyre. In this case its 615kg |
| W | Speed Rating. Indicates the maximum speed for the tyre when at full load. In this case 168 mph. |
| E4 | ECE type approval mark, which demonstrates the tyre has been tested as high quality by the European Regulatory Authorities. All Tyres sold by Blackcircles.com carry this mark. |
If you still have questions regarding your tyre size, do not hesitate in calling our team of tyre experts on 0845 620 2000.