Yokohama Rubber launches Fuel-Efficient Passenger-Car Tyre BluEarth AE-01 in Europe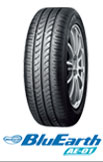 Bringing Fuel Efficiency to More People with the "Environmentally, Human and Socially Friendly" Global Brand BluEarth
Mr Shigeo Komatsu, General Manager of Tire Global Product Planning Division at The Yokohama Rubber Co., Ltd., announced on Wednesday at the Geneva Motorshow the release a new tyre, the BluEarth AE-01, in the European market. The AE-01 is a latest generation tyre for passenger cars in the fuel-efficient BluEarth tyre series. It will be available in 40 sizes from 205/55R16 91H to 155/80R13 79T and will be sold around the world, starting in Europe.
Yokohama developed the BluEarth AE-01 primarily for compact cars, demand for which is increasing, in order to make a greater contribution to global environmental preservation by providing a fuel-efficient tyre available to everyone. BluEarth Technology, already adopted in the flagship BluEarth-1, was used to create the brand new BluEarth AE-01.
Through materials and technologies such as nano blend rubber, orange oil, aerodynamic design and weight reduction, high levels of safety and comfort have been achieved in addition to fuel-efficient performance. Surrounding living environments also benefit from the noticeably reduced external rolling noise.
With the BluEarth-1 having been released in the European market in April 2011, the BluEarth AE-01 will be the second product under the BluEarth brand name. In addition to the series itself, tyres developed based on the BluEarth concept carry the BluEarth concept mark on each sidewall.
The concept of the BluEarth series is reducing specific burdens on drivers, passengers and surrounding living environments based on improved fuel efficiency through reducing rolling resistance, as well as maintaining safety. To those ends, Yokohama Rubber develops its own technologies to realize performance friendly to the environment, society and people and delivers them through its products.
The company is accelerating development of products based on the concept by incorporating such technologies in replacement and original equipment tires for new cars and will expand the BluEarth series. Yokohama Rubber plans to promote the series globally - not only in Europe but throughout the world.